These are the most important interior design trends in 2022
Never before have we spent so much time at home. How has this affected our tastes and what we do to feel good? We have taken a closer look at the interior design trends for 2022 – and the keywords are colour, second-hand furniture, natural elements and personality galore.
- The pandemic has made us want a home that is precisely that – a home. Not something generic that resembles the cover of a furniture catalogue. The house or apartment we live in has become a much larger part of our identity, and we want its interior to reflect who we are and how we live.
In 2022, minimalism is on its way out. Now, we would rather surround ourselves with textiles, colours and objects we are particularly fond of, which make our home a cosy and comfortable base for our everyday lives.
Invite nature to join you indoors
According to the interior design experts, nature is going to be one of the most important sources of inspiration in 2022 as well. During the pandemic, many of us have rediscovered the joys of the great outdoors, and this is reflected in how we decorate our homes. We are seeing a growing interest in bringing nature into our homes. Wood, stone, paper, ceramics and natural textiles like linen and wool are trendier than ever before.
Leafy indoor plants are still popular – the bigger the better. But if you are to be right on trend, you should go for houseplants with patterned or colourful leaves. No matter what you choose, plants contribute to a greater sense of wellbeing and a good indoor climate. They also do wonders for the visual experience. Don't have green fingers? Never mind, you can always go for wallpaper or textiles with a plant print.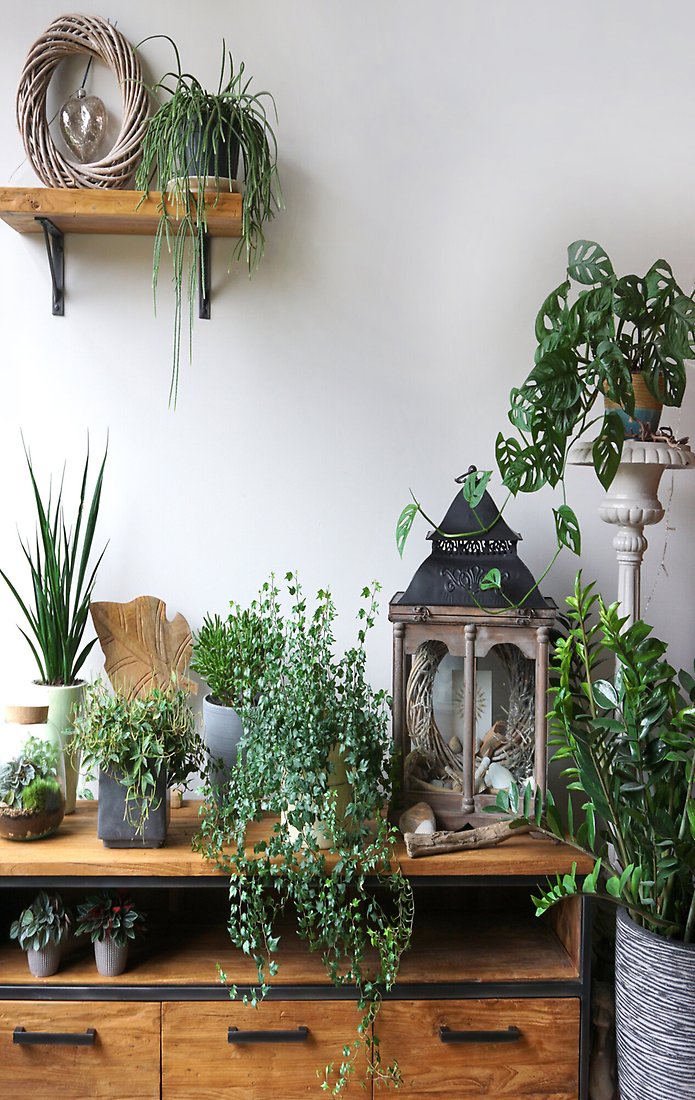 Soft, organic shapes
The natural trend does not stop at materials and plants. In 2022, we also say goodbye to sharp edges and strict geometric forms. Now, what counts are organic and rounded shapes, just as in nature.
In uncertain times, we want our homes to be a safe haven, a comfortable nest where we can seek sanctuary from the outside world. Curved lines and rounded corners give the interior a soft and cosy look. And what could be better than watching the flickering flames of an open fire as you sink back into a soft, comfy sofa after a long day?
Organic shapes are not restricted to larger pieces of furniture and fittings, such as kitchen islands, sofas and tables. They also pop up in vases, lamps and tableware. And this year's on-trend mirror? It has naturally been inspired by the fluid movements of waves in water.
Remember that all our stoves are delivered unpainted, you can paint in the color of your choice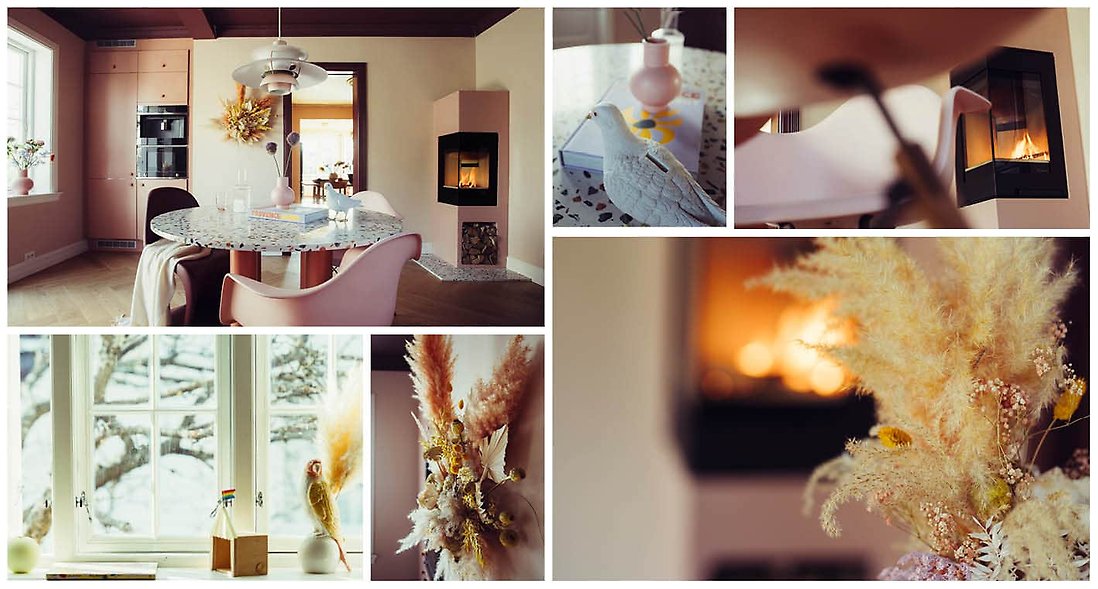 Colours pointing to brighter times
After a long period of white and grey interiors, colours are finally making a comeback. Muted greens and natural, earthy shades that create a sense of calm and harmony are still popular choices.
However, three years into the pandemic and another new trend has begun to make its mark. Lively, uplifting colours in clear shades, such as turquoise and lavender, are growing in popularity. The key is to use a colour palette that makes you happy and expresses your personality.
You may have noticed that painted ceilings are everywhere in the interior design world. This year, window frames, doors and panels will also get a lick of paint in some bold hue – preferably combined with paler-coloured walls.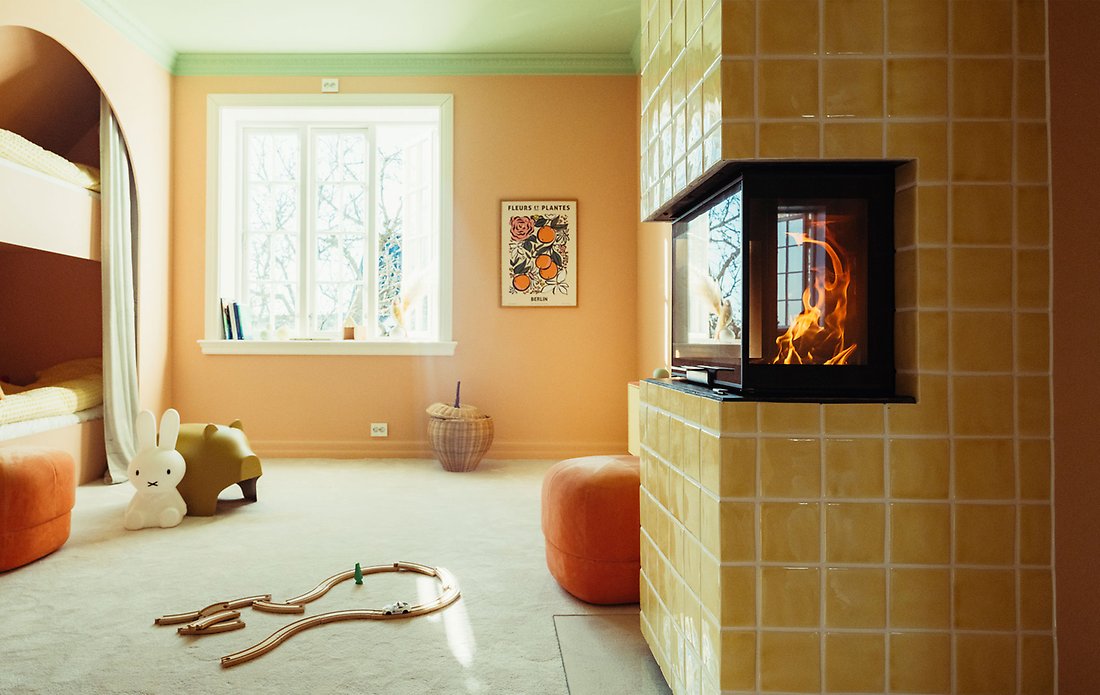 Sustainable maximalism
The focus on sustainability is getting stronger and stronger. In recent years, many people have caught on to blending old and new. While retro furniture, particularly from the 1950s and '60s, has been popular for some time, the trend is now moving towards an eclectic and maximalist interior. Perhaps you have already heard of the "Grandmillennial Style" on social media?
This term describes the result of young people with a love of antiques and grandma's embroidered tablecloths combining nostalgic elements with the ultra-modern to produce a unique and creative look. This generation are tired of mass-produced furniture and want to fill their homes with carefully selected objects that are chock-full of character – without harming the environment.
Want to recreate the Grandmillennial Style in your own home? Go to a jumble sale or flea market and look for Persian rugs, fine old china, pleated fabric lampshades and oil paintings.