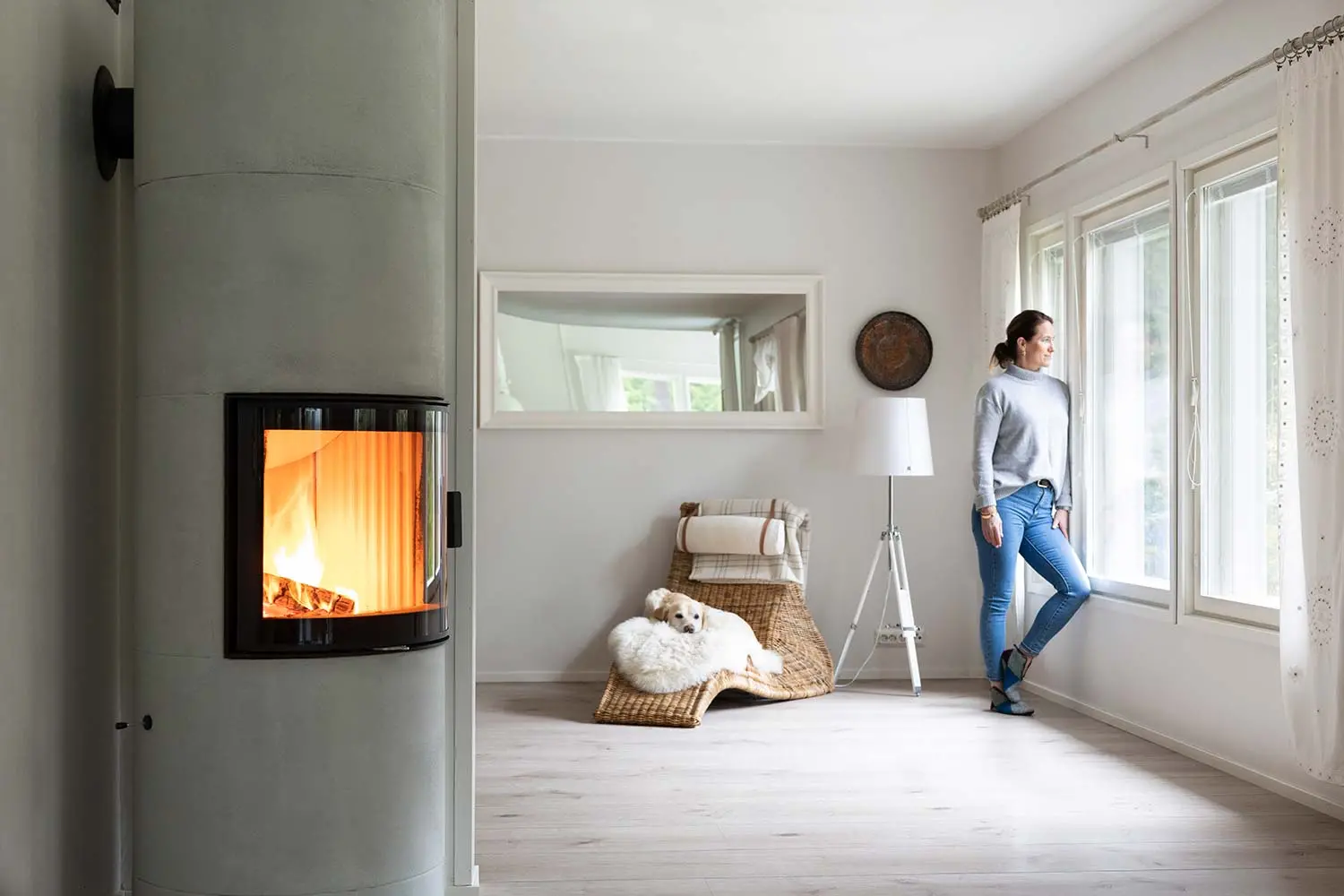 A new fireplace for the living room
The Wallenius family from Finland had a large and imposing fireplace that occupied much of their living room. They wanted a new, modern and closed fireplace that didn't take up as much space.
The Wallenius` decided to take their time when they started preparing to replace the original fireplace. Considering that most people buy a new wood-burning stove or fireplace on average once or twice in their lifetime, this is a particularly important phase. By carefully defining your wishes and understanding the kind of functionality you are after, you will end up with a fireplace that will suit your needs for many years to come.
After reading up on articles online and looking at inspirational photos, the family compiled a list of wishes and requirements.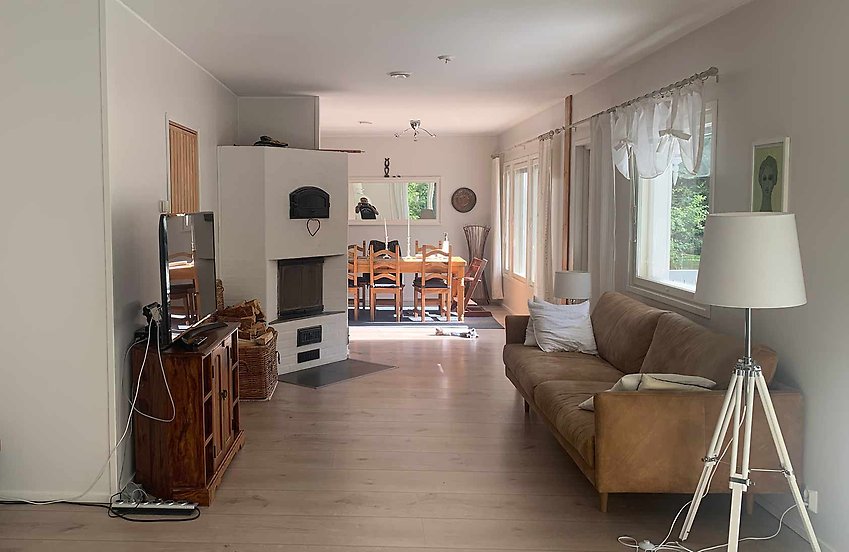 As both electricity prices and societal uncertainty increased, the couple wanted an alternative to electric heating.
They wanted to become a little less dependent on electric heating.
They also wanted to reduce their electricity bill in the years to come.
Since they live in a large, detached house, they also had a lot of space to heat.
In addition, they wanted a low-maintenance fireplace that would provide maximum effect.
Last but not least, they wanted a beautiful and minimalist fireplace that would fit into their modern Finnish home.
Design and style
With a stylish design, clean lines and large glass panes, Nordpeis' fireplaces can change and enhance the whole impression of the room. With the opportunity to paint or tile the fireplaces in whatever colour they wished, the Wallennius family knew that a Nordpeis fireplace would not only suit their current interior décor but would also allow them the freedom to make changes and upgrades in the years to come.
Since a fireplace from Nordpeis is both clean-burning and efficient, it would provide more heat per log, lower emissions of particulate matter and also a better indoor climate.
After careful deliberations, they finally decided on the beautiful and efficient Salzburg R fireplace.
The Salzburg satisfied a number of the family's requirements. It is a heat accumulating fireplace with a duct system that allows it to store and give off heat for a long time. In addition to the duct system, the Salzburg fireplace includes our proprietary PowerStone™ concrete mix. Nordpeis developed and designed PowerStone™ specifically to absorb heat while the fire is burning, and then release the heat over a period of up to 20 hours.
– I particularly liked the idea of only needing to have two fires a day to keep the house warm. It saves both time and money. It is incredibly efficient!
Johanna Wallenius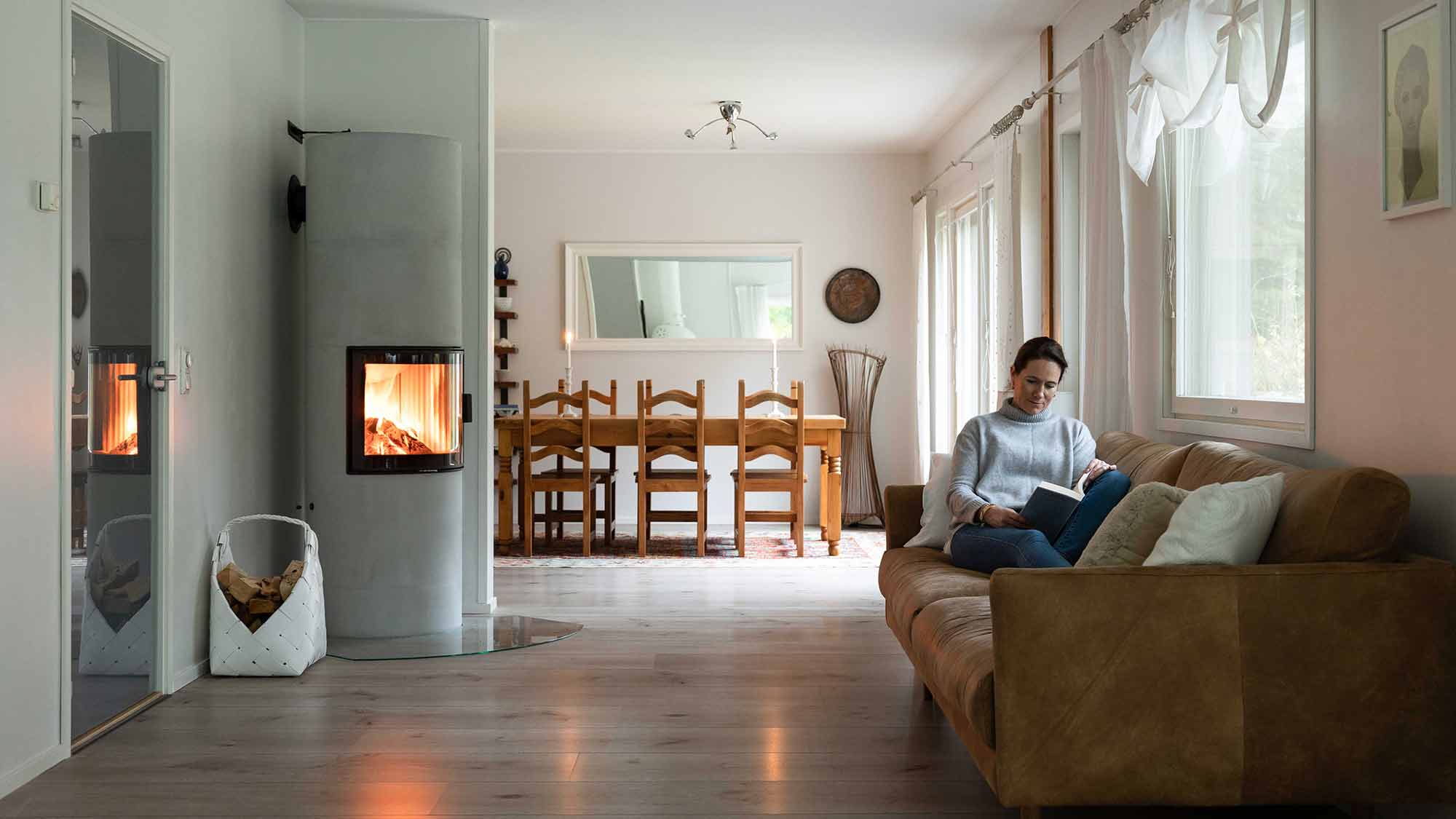 It is so comfortable and relaxing to sit next to the Salzburg R fireplace. The immediate heat doesn't overwhelm you, and because it has a heat accumulation effect, it provides a pleasant and even heat for up to 20 hours.
Since they can also update their fireplace if they decide to renovate their living room at some point, they have plenty of opportunities to make both major and minor changes if they so desire. Most of our fireplaces are delivered untreated and can easily be tiled or painted with water-based paint.
When Nordpeis asked the Wallenius family what they thought about the whole process and whether they would go through it again, they told us it was an entirely positive experience. They added that they had received excellent help from our website, as well as from one of our skilled Nordpeis retailers.
If you had one piece of advice to give to someone who was considering replacing their fireplace, what would it be?
– Don't hesitate, do it today. You'll save a lot of time and money in the long run, and an attractive fireplace will definitely improve the overall appearance of your house. If I could give one tip then it would be that you should spend time on deciding what you need – and you shouldn't hesitate to ask a retailer for help. Then you know you'll end up with a fireplace that you will enjoy year after year.
Like all fireplaces from Nordpeis, the Salzburg is delivered as a building kit with ready-made modules. This made the installation quick and easy, and within a matter of hours, the Wallenius family had a brand-new fireplace that they could start using right away.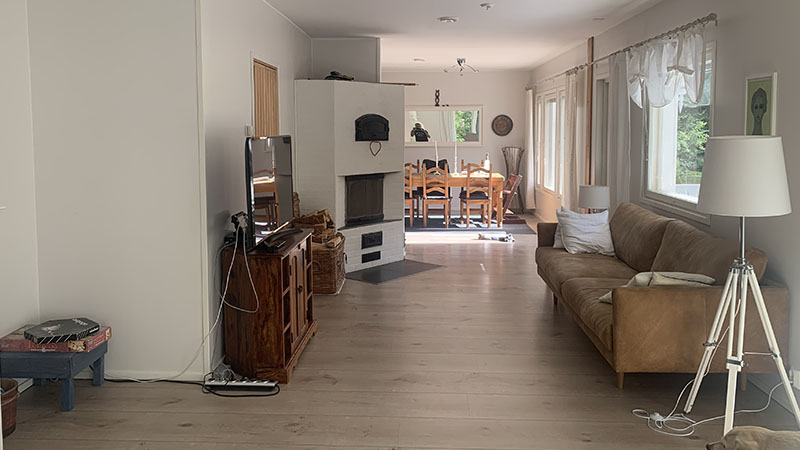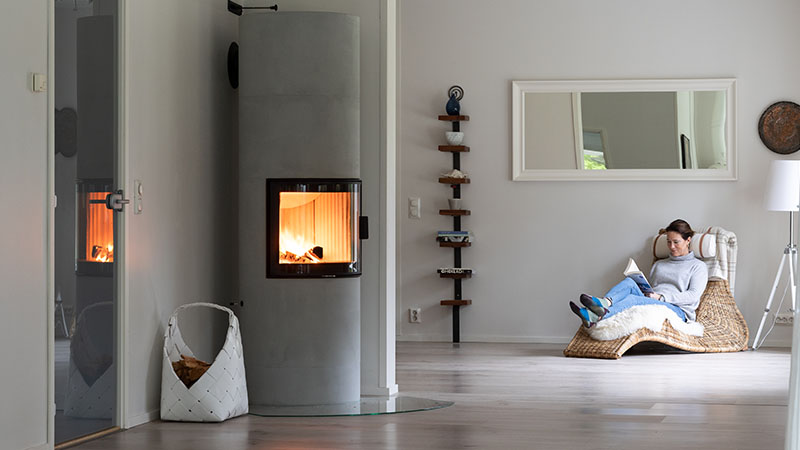 Watch the full film of the conversion
Like all Nordpeis fireplaces, Salzburg is delivered as a kit with ready-made modules. This made the assembly job quick and easy, and within a few hours the new fireplace was in place and ready for use. It is delivered untreated and can easily be tiled or painted with water-based paint.