Monaco - our most popular range
Monaco is a range of beautiful built-in stoves that produce a lot of heat. The large glass panes provide a good view of the flames, and the design is stylishly contemporary.
It therefore comes as no surprise that Monaco is one of our best-selling range of stoves.
With a focus on innovation and design, these stoves are perfectly suited to a modern, Nordic-style décor. The Monaco range has a large firebox and produces a lot of heat. It is therefore suitable for large rooms and open-plan layouts. Monaco stoves come in many different versions and have a variety of optional extras to make them fit your home perfectly.
Benefits of the Monaco range
Exclusive lift/lower door mechanism
Integrated firewall
Vents concealed in the plinth for a clean look
Airwash system for cleaner glass
Optional external air supply

In addition, all the stoves in this range can be supplied with Powerstone – a heat-storage element that enables the fireplace to keep releasing heat long after the flames have died down. Like all our stoves, the Monaco range is naturally clean-burning.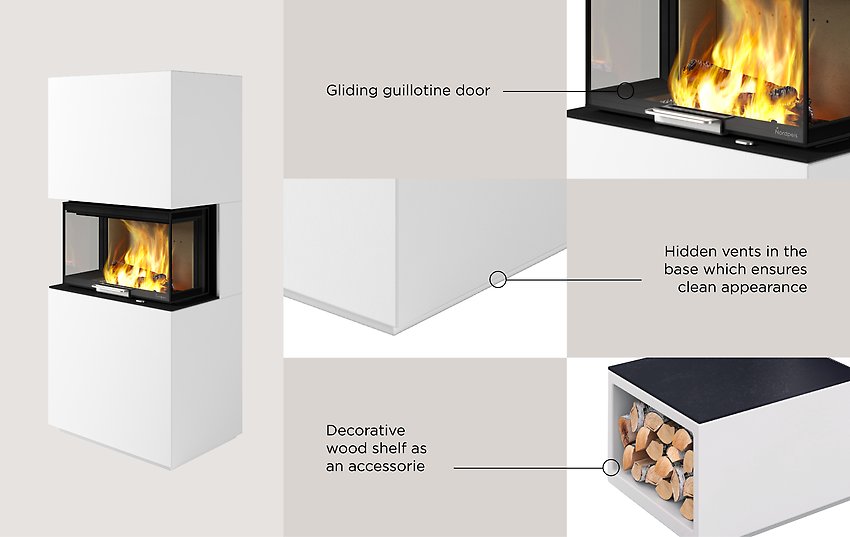 Monaco with glass on three sides
Having glass on three sides allows you to see the flames from an exceptionally wide angle
Monaco with glass on two sides
Monaco also comes with glass on two sides - making it the perfect corner stove.