Contrasting Nordic design in the forest
Traditionally, wood-burning stoves have been associated with cosiness. Warm textiles, deep sofas and hot chocolate in a mug. But the fireplace and stove also deserve a place in a stylish and minimalist indoor environment of Nordic design.
Nordic design and architecture are characterised by clean lines and locally sourced quality materials. Although the expression is quite minimalist, elements of wood and flame provide a cosy atmosphere. We look to the natural world, combining natural materials inside with a good view of our surroundings.
Sober and sincere are important keywords. Here the good craftsmanship and materials are the focus, and the décor is often sparse and carefully selected.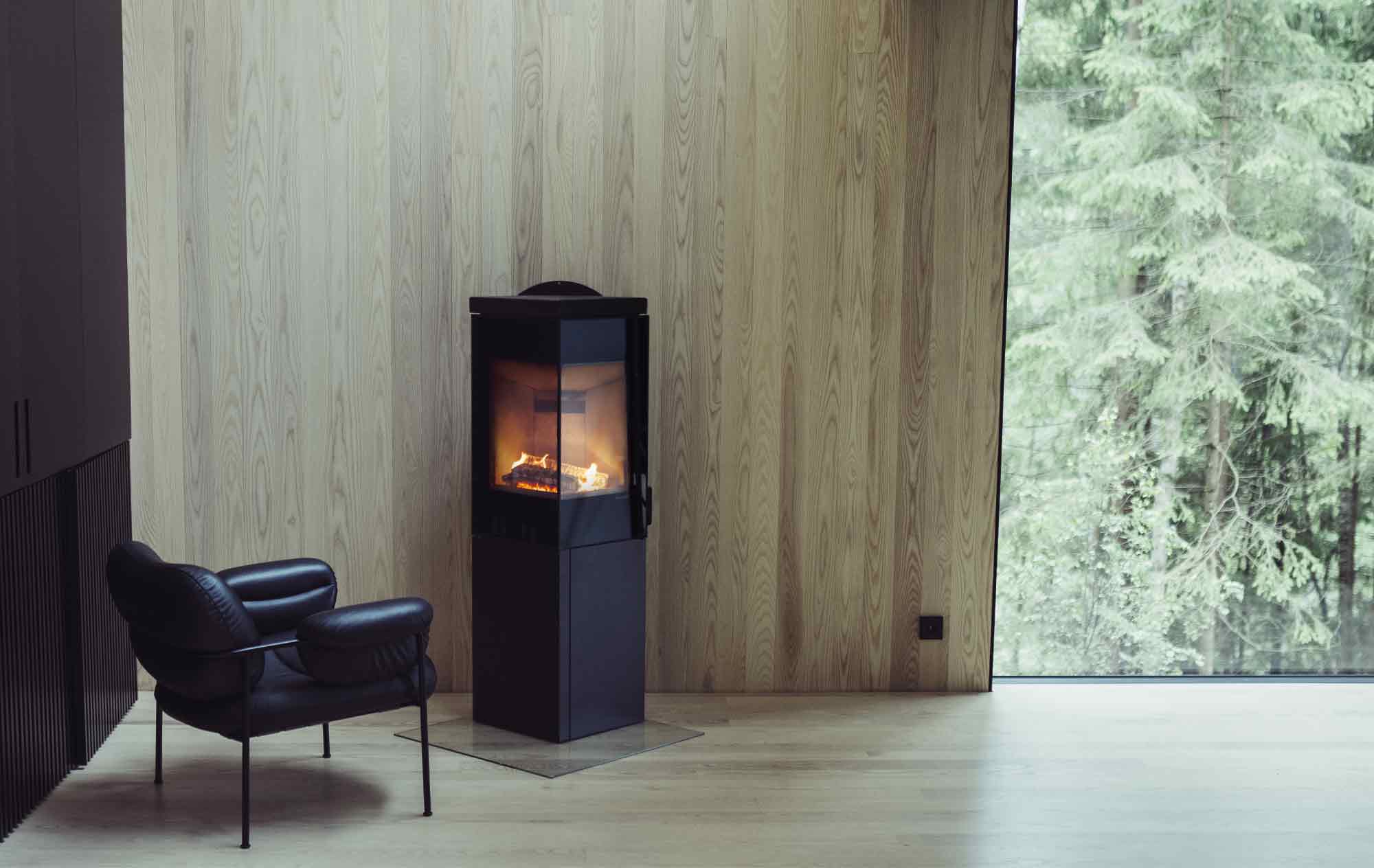 A design gem among the treetops
The Laagen property is a good example of architecture where subdued Nordic design is enhanced by the contrast with the outdoor environment. Treetop cabins and glass containers are decorated according to simple design principles. Craftsmanship, quality Norwegian materials and clean lines look austere against the wild surroundings.
The contrasts are also highlighted in the meeting room. Here we find warm floors and walls in ash that meet clean lines and carefully picked furniture from renowned Norwegian designers. Black steel details in lamps and in the stove help to reinforce the variation between the hard and the soft. The large glass surfaces let the light in and draw the gaze out towards fluttering foliage and the wild river.
Austere yet warm Nordic design
The exclusive stove Quadro Exclusive continues the lines from the rest of the room. With its large external glass, it is especially elegant and gives a view of the flames from both sides. The high base helps make the stove a beautiful eye-catcher, which seamlessly fits into a stylish and austere environment. The modern handle does not disrupt the lines and emphasises the subtle, thoughtful expression. Here, the flame really comes into its own and becomes in itself a design element.
The Quadro is a more affordable version of the stove used at Laagen. It has the same angular glass as the Exclusive model. And even without the base and the external glass, it blends nicely into a Nordic environment.
How to get the clean, Nordic style
Think quality over quantity. Go for carefully selected furniture and materials that stand out - rather than many elements competing for attention.
An austere and clean environment can quickly feel cold. A wood-burning stove provides a warm atmosphere. The flame itself serves as an additional design element that gives life and movement in an otherwise calm décor.
Decorate with contrasts, and feel free to play along with your surroundings. Large windows let light and the surroundings in, while variation between two or three hand-picked materials indoors makes even the subdued tones exciting.