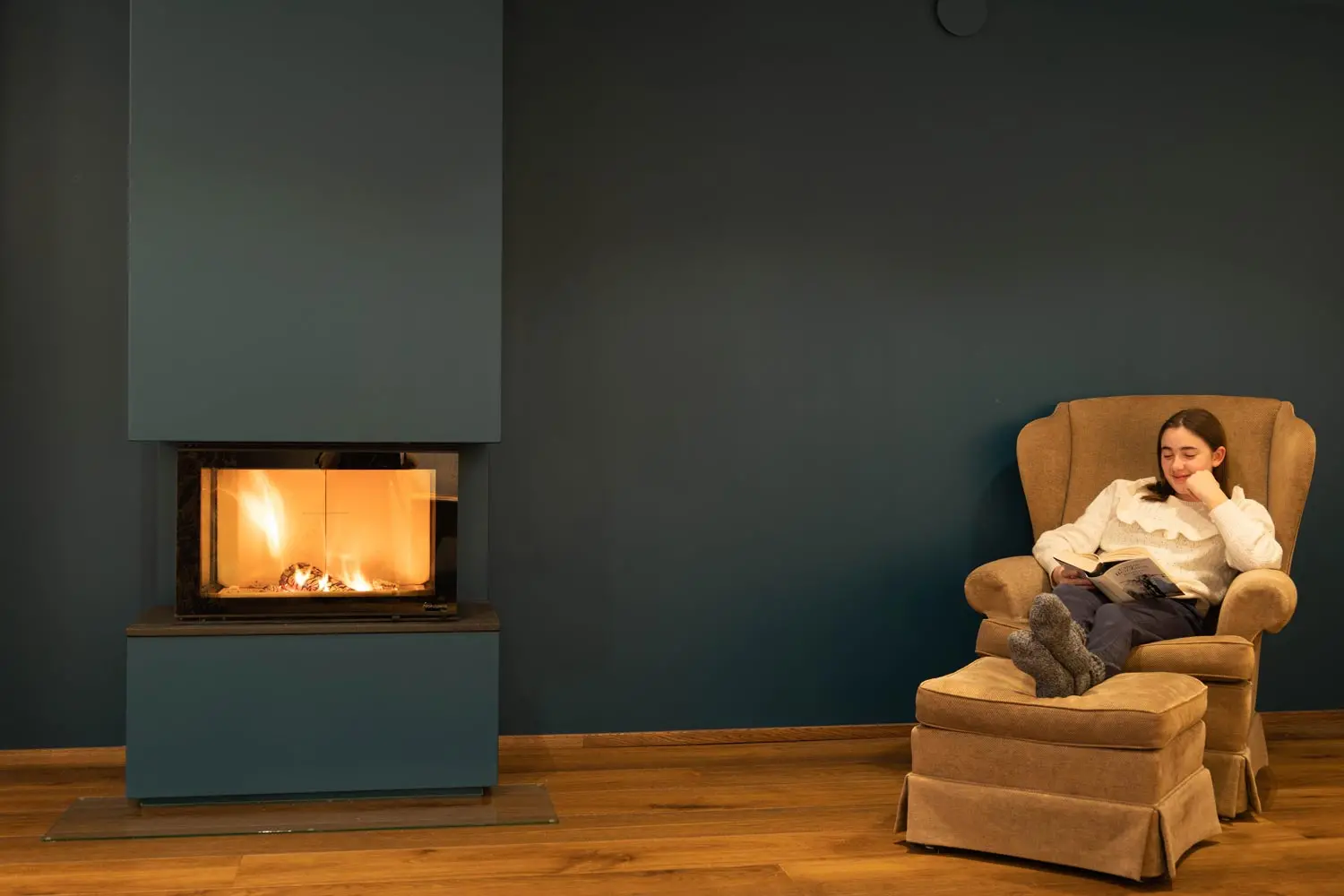 Perfect fireplace for a large room
What do you do if you have a large lounge, a high ceiling and are looking for a stylish design for your new house? This was the challenge facing Ellen. Her solution? A Davos High, with a u-shaped insert. With its clean lines and elegant appearance, broad firebox and large double-glazed panels through which to watch the dancing flames, the Davos range of fireplaces makes a fine addition to any space. To ensure optimal combustion, the glass panels on either side are coated with a unique reflective material.
Inspiration and guidance
When Ellen first visited our website in search of inspiration, She was uncertain which fireplace to choose. Her house had not yet been built, but she wanted to start planning at an early stage so she would have plenty of time to consider her options.
Most people buy a fireplace only once or twice in their entire lives. So, buying a new one is a major decision, especially as it will remain with them for many years to come.
Ellen took her time, browsed online, looking at different products and reading product descriptions. Equally important for her was to look at pictures posted by other people and be inspired by their solutions. She also visited a retailer for inspiration and guidance. While she were in the store, she had the opportunity to see the products up close, touch them and get a feel for their physical presence. she also consulted the retail staff, who helped her define their requirements and find the right solutions.
Large, clean glass panels
Fresh air is drawn in via a channel at the top of the glass. This prevents the hot smoke from coming into contact with the glass and leaving a sooty deposit.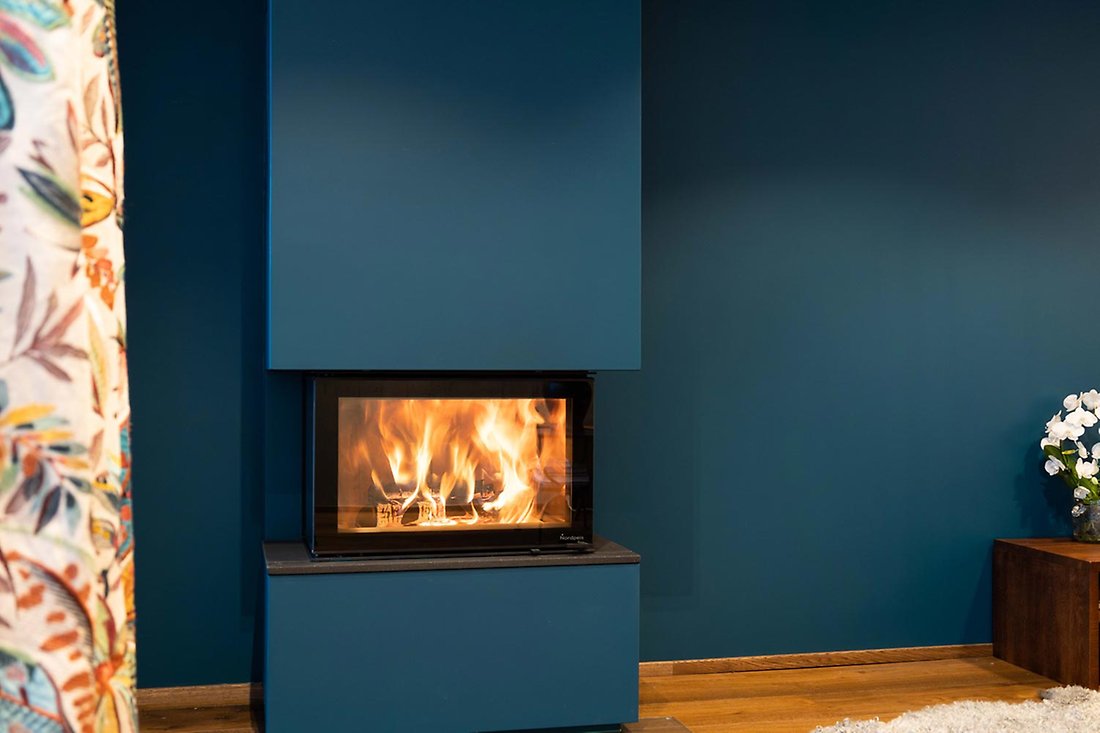 The house Ellen was planning to build had large rooms and she wanted a large fireplace, with a firebox big enough to let her see the flames from multiple angles and different parts of the room. At the same time, she wanted a fireplace that she would not have to spend a lot of time and energy cleaning and maintaining. She chose a clean-burning fireplace, requiring minimal maintenance but producing a good, steady heat over a long period. All of Nordpeis's fireplaces are clean burning, which benefits the environment and will keep costs down for years to come.
Davos U High
It quickly became clear that the Davos U High was the right choice for Ellen. With its integrated firewall, it could easily be positioned against a wall, where it could be seen from both the kitchen and the living room. In this way, she could enjoy the fireplace throughout the day.
The Davos range can also be supplied with a PowerStone™ heat-storing capability. With added heat storage, the fireplace can keep releasing heat for up to 20 hours after the fire has died down.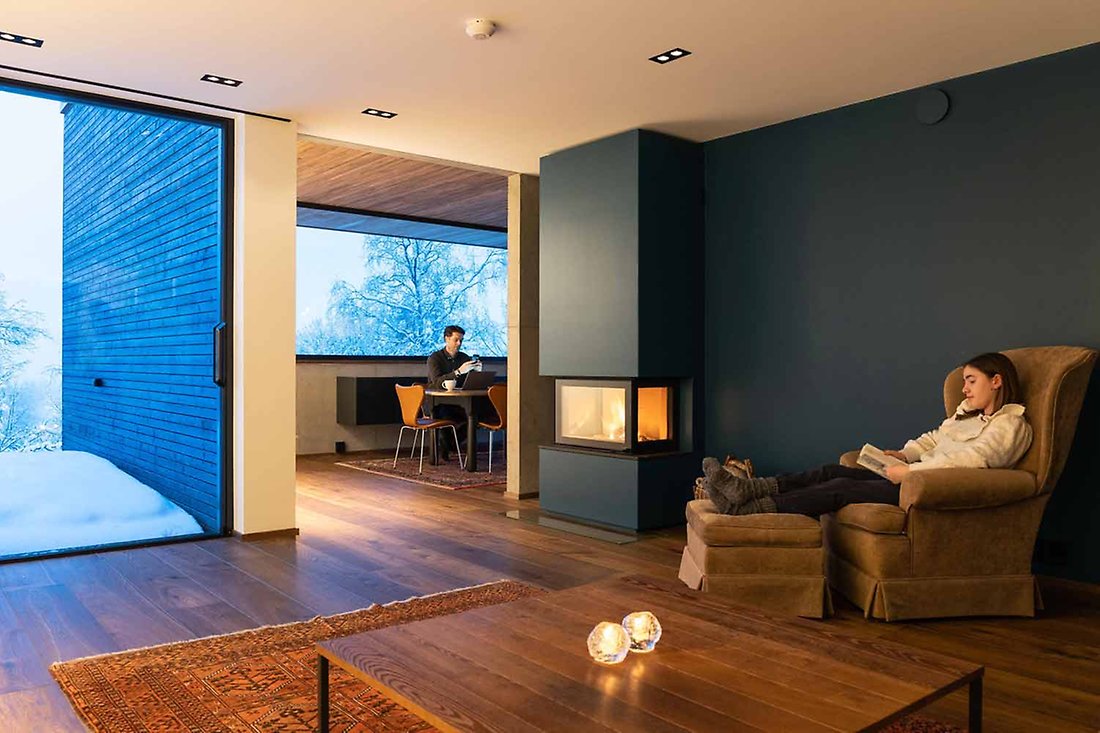 Like all our fireplaces, the Davos range comes in unpainted concrete. They can therefore easily be painted or tiled to create each customer's preferred look. This gives a fireplace that can accommodate changing interior design and colour trends. Year after year.