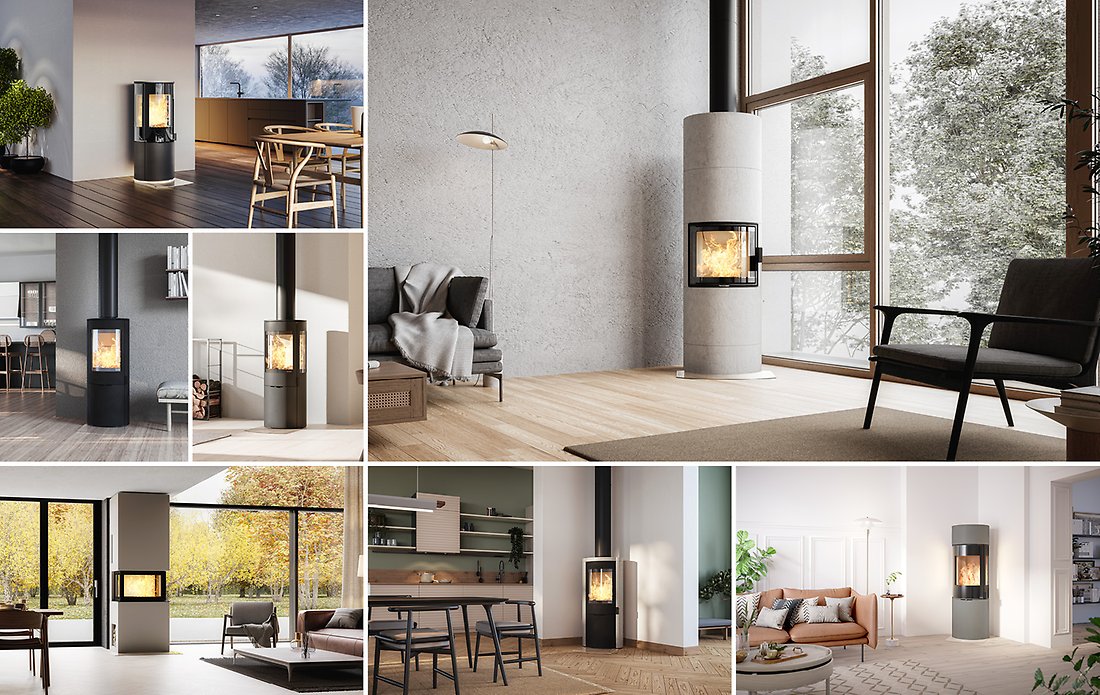 Timeless design with a personal touch – here are the new woodburning stoves for 2022
A crackling fire in a woodburning stove or fireplace draws the eye and quickly becomes the focal point in any room. The autumn's new models from Nordpeis offer you smart solutions, combined with stylish details and true elegance.
With today's galloping electricity prices, it comes as no surprise that many people are now choosing to buy a woodburning stove or fireplace. After all, it is a safe and efficient way to heat up your home, while saving electricity. At the same time a crackling fire creates a cosy atmosphere and allows you to relax and forget your cares for a while – which is very welcome after the pandemic and all the uncertainty it caused.
It is almost as though the question is no longer whether you should have a fireplace or not, but rather what it should look like and in which room it should stand. Although most people still have the fireplace in their living rooms, installing one in the kitchen as well is becoming increasingly popular. We have also seen a growing trend for fireplaces in the bedroom and bathroom.
This autumn's exciting new models from Nordpeis have something for every taste, and can be adapted to your home and your style – regardless of the room you wish to enhance with a warming fireplace.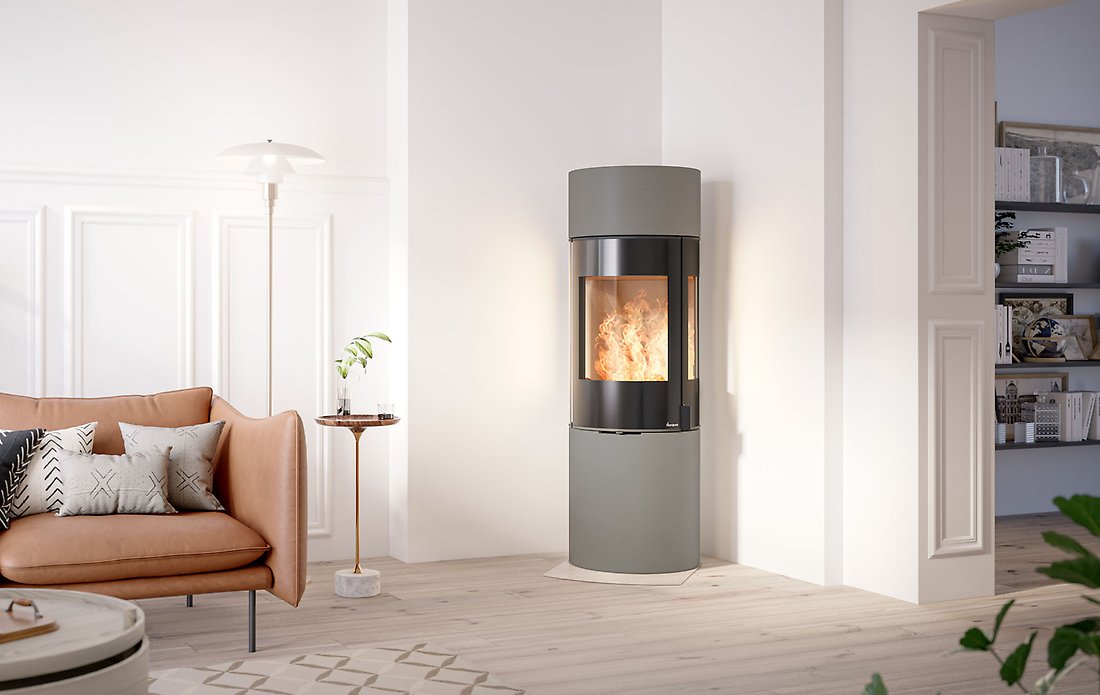 Clean lines and stylish design
If you prefer clean lines without superfluous embellishments, you will love this autumn's new model, Origo. It unites form and function in an elegant and effortless way. The large glass door provides excellent views of the flames, while its integrated ash drawer and self-closing door mechanism make it both safe and easy to use.
Origo with glass side panels is perfect if you love the sight of flames flickering in the grate. Glass on three sides means you can see the flames no matter where you are in the room. The design is stylish, with a sophisticated look that is simultaneously modern and timeless.
Both models can be fitted with a dimmable LED light in the base. This gives the stove a personal touch and a lovely decorative effect, even when it is not in use. At the same time, its slender cylindrical shape creates a sleek and modern look – with no unnecessary embellishments to disturb the harmony.

Modern and timeless concrete
Natural materials are more popular than ever before. Origo Colorado Natural and Origo Colorado Exclusive are both clad in our specially developed and naturally beautiful Colorado concrete.
Origo Colorado Natural has its sides and top clad in Colorado concrete, which provides an exciting contrast to the black steel components.
Origo Colorado Exclusive acts as a natural focal point in any room, regardless of where you choose to put it. The stove is made from Colorado concrete in the colour Colorado Grey, and it has a unique surface that highlights the sand's subtle variations in colour. This makes Origo Colorado Exclusive a stove that is simultaneously modern and timeless. This is a unique model and the perfect choice if you are looking for something that stands out from the crowd.
Both stoves are double glazed for exceptionally effective combustion and simpler adjustment of the heat output. It also helps to keep the glass clean, so that you can enjoy the sight of the flames without the irritation of soot on the glass.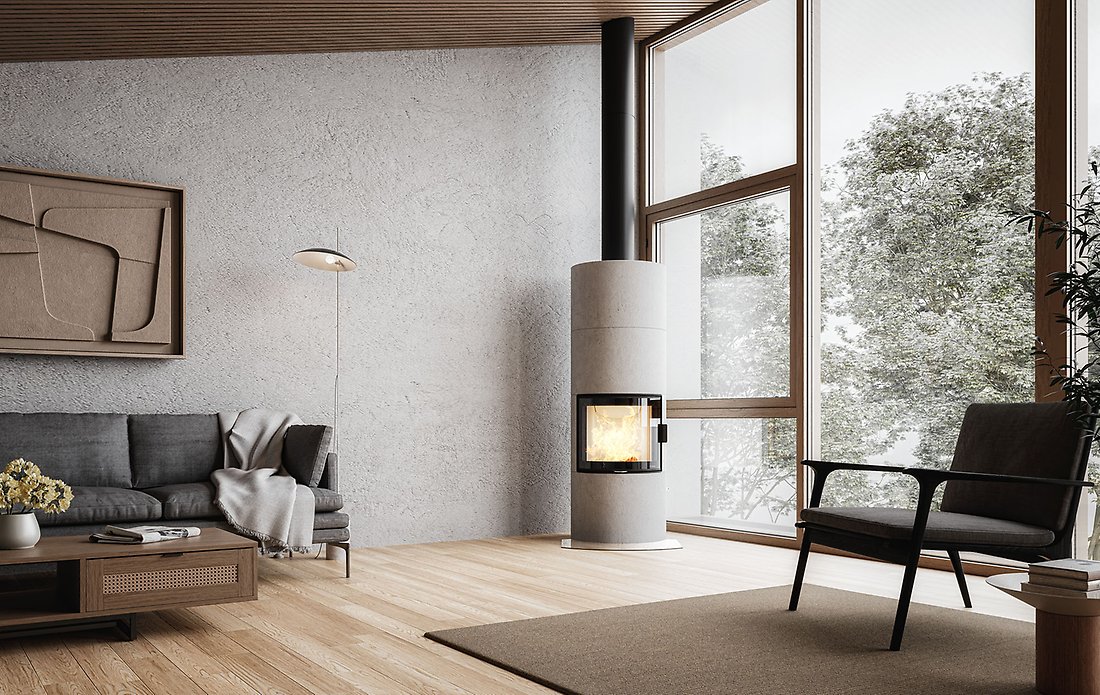 An eco-friendly choice
With electricity prices climbing ever higher, many of us have become more aware of wood-burning as a source of heat. Salzburg R provides efficient, lasting and eco-friendly heating, with a catalyser that further reduces emissions.
A unique core, made of the heat-storing material PowerStone™, gives you a steady heat output for up to 20 hours after the fire has gone out, when used correctly. In this way, you can retain the great feeling of heat from the stove while reducing fuel costs.
This stove fits in anywhere, no matter what interior design style you have in your home. With a timeless shape and externally mounted front glass, this stove looks exclusive and – not least – provides excellent views of the flames. If you wish to add a further personal touch, you can choose to clad the stove in large ceramic or mosaic tiles.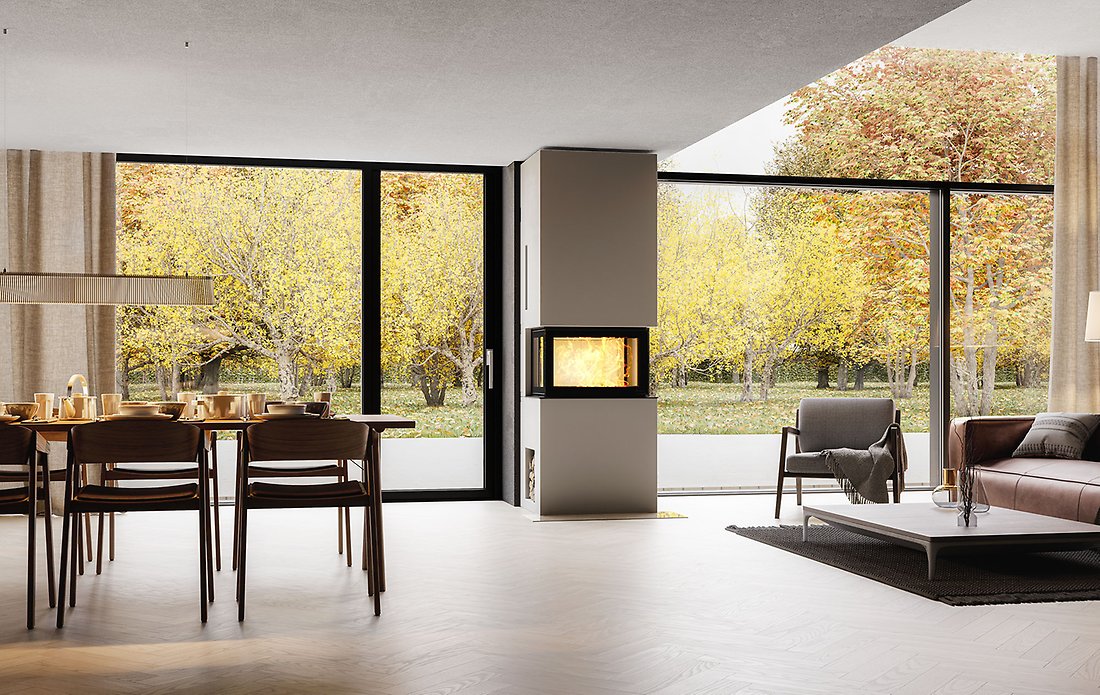 Timeless and lovely
After the Covid-19 pandemic, lighter shades and larger objects have become the new interior design trend. Genève is a stove that dares to make a statement and really comes into its own in large rooms. A stylish log niche beneath the combustion chamber ensures you always have wood to hand, without detracting from the interior. Practical and elegant!
A lovely woodburning stove is not only a source of heat but also a decorative feature that creates a special atmosphere in your home. The Scandinavian look has become a popular part of today's interior design trend, with light-coloured, natural materials that embody nature in a more permanent and sustainable way than before.
Our new models combine Nordic minimalism and clean lines with a modern look and delicious details. With the focus on timeless designs and smart solutions, we enable you to find your dream fireplace, which you will enjoy for many years to come.
En personlig stil med bærekraftige valg - våre beste tips:
Lysere fargetoner, gulldetaljer, spennende mønster og overdrevent store objekter er trendy og lar deg skape et interiør med et personlig preg.
Velg kvalitet fremfor kvantitet. Gamle skatter som er preget av tidens tann, kan med små grep pleies til et langt liv videre.
Slipp naturen inn! Velg treverk, stein, naturlige tekstiler og planter for å skape en organisk og behagelig atmosfære hjemme.
Glem tanken om et striglet og perfekt hjem – lek deg med alt som gir deg glede og positivitet!
En peis med flere bruksområder
Første bud er kobling til et pipeløp. Har du ikke dette, kan du sette inn en stålpipe der peisen skal stå.
Utnytt plassen fullt ut med å ha skap og hyller til ved, bøker eller TV-en. Eller hva med å forlenge peisen med en benk du kan gjemme rotet i?
La peisen fungere som et naturlig blikkfang på kjøkkenet eller i stua for å skape en lun atmosfære.
En peis sprer varmen effektivt rundt i hjemmet og er med på å redusere strømutgiftene.