Stylish, natural and modern – new models for 2022
A fireplace or wood-burning stove provides both heat and cosiness. But have you ever thought they could also be an eye-catching design feature? This year's new models from Nordpeis offer innovative designs and countless opportunities to adapt them to your particular needs and wants.
We Norwegians love a log fire, and during the pandemic many of us have used the flicker of flames as a source of relaxation and calm in a strange, new situation. But the time when a stove was primarily a source of heat is long past. Nowadays, design, shape and colour are equally important. Because, in keeping with the general trend in interior design, which highlights personal taste and creativity, we want a fireplace or stove with personality.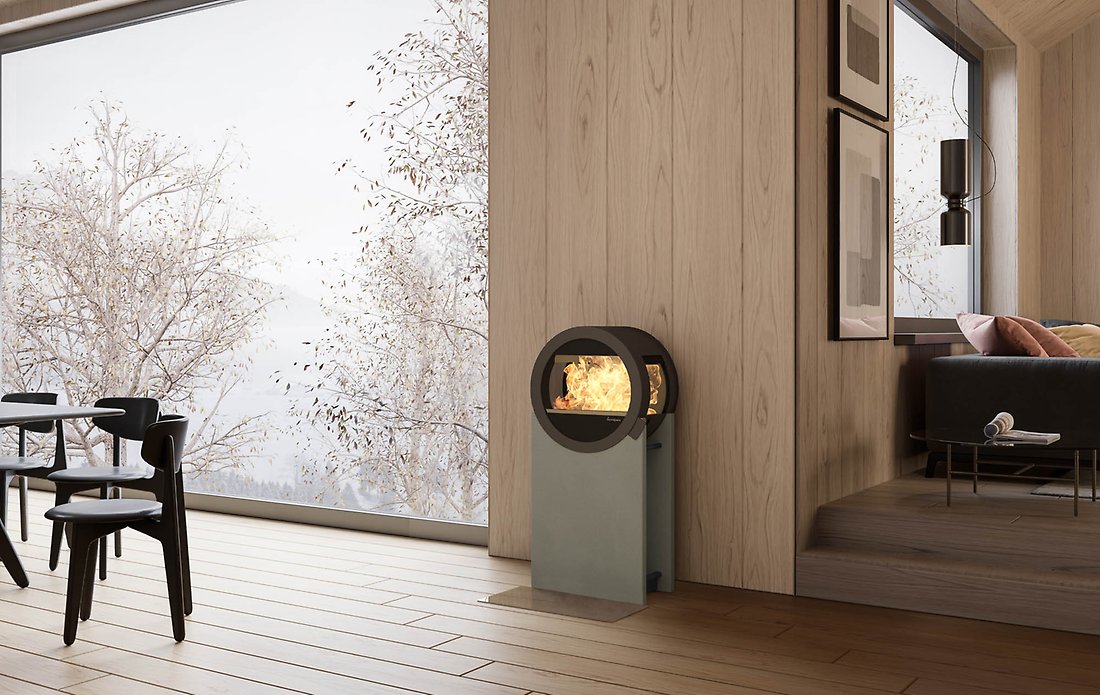 Regardless of your preferred style – whether it be Nordic, urban, playful or classic – this year's new models have been designed to add a unique touch to your home.
Flames in focus
The sight of flickering flames is enchanting – and more relaxing than almost anything else. No wonder then that modern stoves are equipped with ever larger glass panels, also on the sides.
If you want to get the most out of the flames, we have a number of exciting innovations.
The Praha has a simple, stylish design and gives you views of the flames from three sides. In addition, it has a decorative niche at the front where you can store your logs without cluttering up the rest of your interior. And because the Praha comes with a top element as an accessory, there is nothing to stop you building it right up to the ceiling.
The Odense Exclusive has external glass for an even more fabulous view of the flames. With its clean lines it is a real eye-catcher – perfect for Nordic-style homes. There are plenty of opportunities to add your own personal touch to the model. For example: install an LED light in the plinth to create the impression that it is floating on air or add a stylish log shelf.
Fireplace as a room divider
A fireplace does not have to be set against a wall or in a corner. On the contrary, there is growing interest in using a fireplace to divide up the interior space. Many modern homes are open-plan. A fireplace is therefore a great way to divide the living area from the kitchen, for example, while ensuring that you can enjoy the flames regardless of where you are in the space.
Do you want to make the fireplace the true focal point of your room? The Osaka T has a see-through firebox that lets you enjoy the flames from both sides and is perfect as a room divider. It is double-glazed to provide exceptionally efficient combustion even at low output.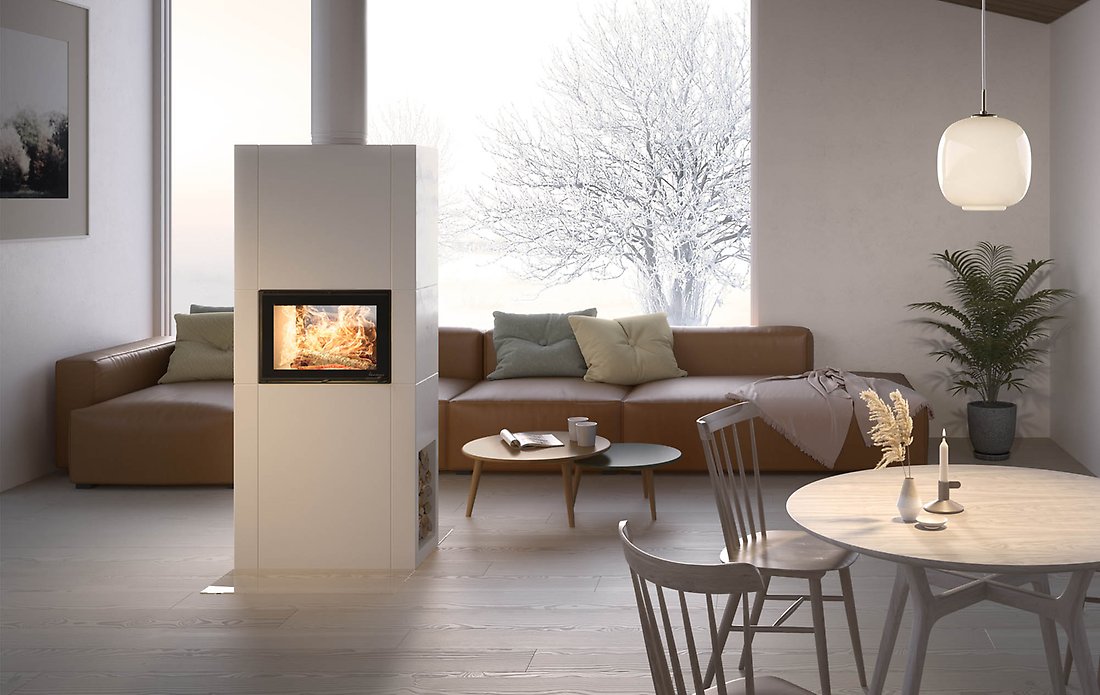 Modern minimalism
Are you one of those who believes that 'less is more'? Flat surfaces and clean lines are still right on-trend – and not without reason. During the pandemic, we have spent more time at home than ever before, and many people have felt the need to declutter their surroundings. Function and quality are in focus, not least because sustainability has never been more important.
With its Nordic look, the Stockholm has been designed to enhance the minimalist style, while adding both warmth and personality to any interior. The side-to-side log niche is both practical and elegant and, since the firebox is positioned up high, you are guaranteed to have a perfect view of the flames.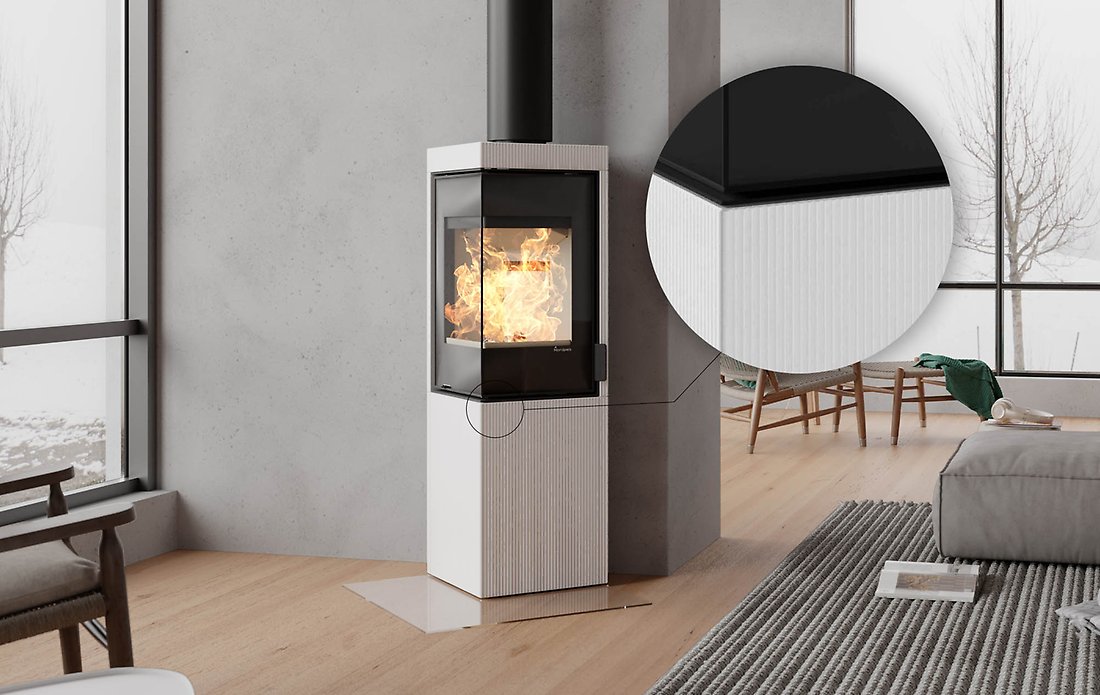 The brand-new Quadro Colorado Exclusive is made from a special type of coloured concrete, whose finely grooved surface was inspired by snow and ice. The angled firebox provides excellent views of the flames regardless of whether it is positioned straight against a wall or in a corner – which, combined with its modern lines, conjures visions of a quiet winter landscape. This is without doubt a stove that stands out.
How to create a naturally beautiful home – our top tips
Add colour with shades drawn from nature. Muted and earthy shades create a calm and harmonious atmosphere, and are easy to combine.
Choose natural materials and textiles: wood, bamboo, stone, wool and linen help create a warm and cosy atmosphere.
Fill up your log niche! Not only does birchwood burn with a lot of heat on winter evenings, it is also decorative and lovely to look at.
Add your personal touch to your interior décor, with lush green houseplants or dried flowers and grasses.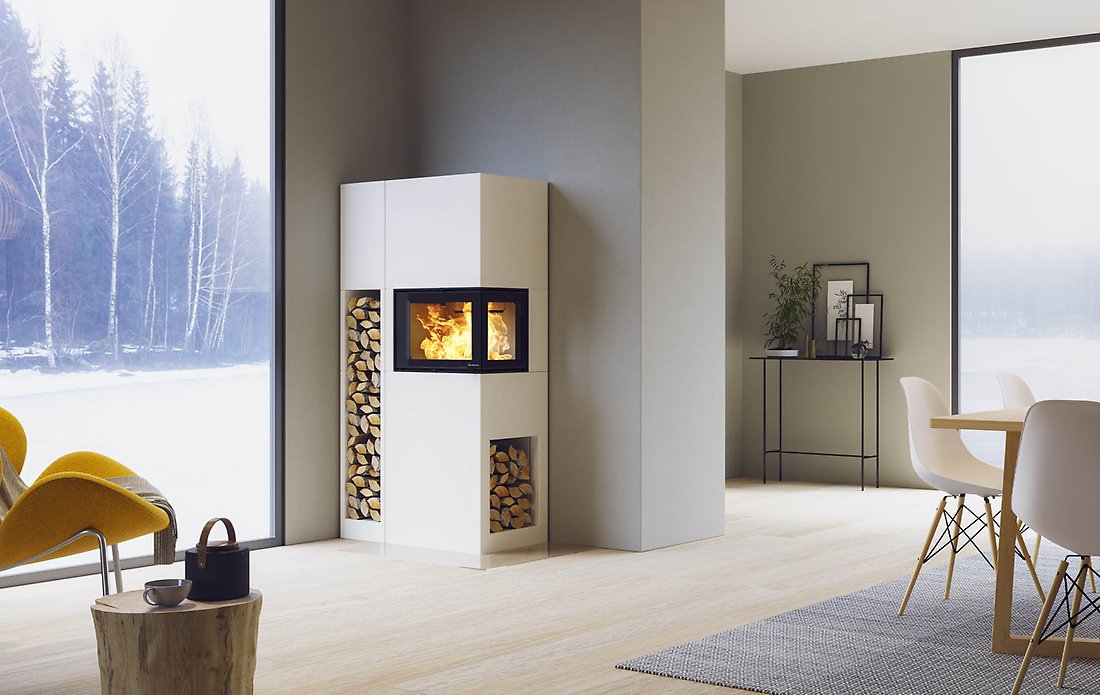 Add colour to your stove
Colour is making a major comeback. And it is not only walls, ceilings and trims that are being given a lick of paint – stoves too are getting colourful. If you want your stove to blend seamlessly into your interior décor, you can paint it the same colour as the rest of the room. But why not make the stove a focal point and paint it a darker shade than the walls or – if you are really bold – a contrasting colour?
The Cannes is perfect if you want to set your unique stamp on the stove. It is supplied in unpainted concrete, but the surface can be painted in precisely the colour that best suits your home – for a truly personalised look.
Rough concrete
If you are looking for a stove with a modern design and a rough, industrial look, we suggest the new Me Concrete. It has the same circular firebox as the rest of the Me-series, but the base is made from a special type of coloured concrete with a waxed and polished surface – which is, furthermore, completely maintenance-free.